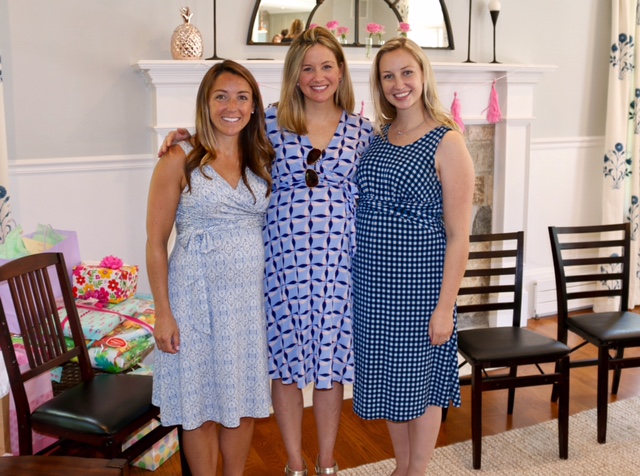 If you know anything about me, then you likely know my life story have probably been made to listen to my woes about surviving the First Trimester at least once. The nausea, the exhaustion, the having to function through it all… I just can't even. So when Second Trimester rolls around, I'm even more unbearable in that I am ready to shout from the rooftops, "who wants to hang out?", and "I'm eating salad again!" The mental fog begins to lift and I am bouncing off the walls, eager to resume life.
With this irrational exuberance comes the newfound motivation to prepare for what's to come, AKA nesting. As this is my fourth baby, I have a much keener sense of what I do and really do not need. After 6 years and 8 moves, I have held onto only the tried and true products and gotten rid of all the excess baby gear. The first time around though, I admit to being very clueless. Thus, when I found out that both my sister and sister-in-law were also expecting this fall (and admitted to being as aimless as I was as a new mom), I immediately jumped into know-it-all helpful big sister mode.
Over the last few months I have been helping them prep almost to the point where I am forgetting that I myself am sporting a belly full of baby. They are both in the blissful stage of beautifying their nurseries, registering for new cribs, baby clothes, doorway jumpers, baths, swings, and front carriers. The shiny new life they are creating for their newborns is a far cry from the teeny closet-like existence that my #4 will be residing in, but he will still be loved to pieces and none the wiser (I did buy wall decals!).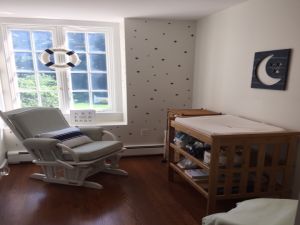 I began by looking at their sparse registries, lacking all the same necessities that I was when I was preparing for this adventure. If you find yourself without a helpful big sister in your life, might I suggest having a quick peek at the registry that I started from scratch for my sister? All the essentials and then some, can be found here:
http://www.toysrus.com/registry/link/index.jsp?overrideStore=TRUS&registryNumber=59559257
If you are expecting your first baby, and anticipating a baby shower given in your honor, a helpful goal is to have at least 40-50 items on your registry. Any less than that and you are likely not going to have the full suite of supplies you actually need when the little bub arrives. Also, you want to give your shower guests a full range of price points and gift options so they don't go out and buy things off your registry that you think are hideous have trouble returning. If you are staying low key with impending arrival and shopping for yourself, might I suggest buying only the items you'll need for the first six months? These would include feeding supplies, infant carrier, monitors, diaper bag, baby bath, swing, car seat, stroller, bassinet, etc. You can always worry about the safety gates, cribs, changing tables, toys, and baby spoons once the little peanut is crawling and eating and you find you actually need them.
A few other tips as you waddle through these lovely few months:
Maternity Clothing: Le Tote is my favorite new discovery! You must check this site out. I have gotten both Sister and SIL on board, and they're loving it too. I am charged $50 per month for unlimited maternity clothing and accessories, which I decide to send back as a rental or keep as a purchase. Some of the items have been so loved I couldn't bear to send them back. They have talented designers creating mama ready clothing and even postpartum nursing-friendly clothing. Although the clothes are being shared on a national level (so eco-friendly right? does this cancel out all the disposable diapers?), they arrive in impeccable condition. I have worn my Le Tote clothing to a derby party, a wedding, a baby shower, and on several date nights. I am sporting more casual looks M- Fri. The three of us agree unanimously that it is the best $50 we're spending each month.
Workouts: Have you tried the Second Trimester Cardio Yoga Fusion workout on Postparty.net? If not, try today. This workout plays by all of the rules of prenatal exercise you now need to abide by for the duration of your pregnancy (no laying flat, no twisting, no extreme inversions, etc.). Performed regularly, the workout will help you steady the weight gain, reduce aches and pains, improve sleep patterns, and most importantly- reduce any stress you may be feeling. Of all the prenatal workouts on postparty, this one is getting the most love at the moment! I hope you enjoy it as much as I do.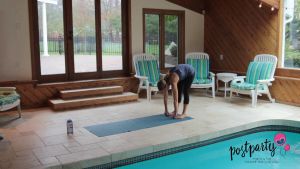 Nutritional Gaps: By now you may be getting tested for gestational diabetes, iron deficiencies, and the like. Are you feeling tired or weak? At this point in your pregnancy you may be getting low in iron. If so, my recommendation is to stock up on Floradix, the liquid iron supplement that is easy on the tummy, rich in B vitamins, and an all around fog-lifter. Pay attention to your energy levels and chat with your doctor. There are many nutritional considerations you should be making now that you're eating for two. Your OB-GYN will be giving you the full low down if you have questions about DHA, prenatals, and supplements you were taking before becoming pregnant.
Sleep getting a little harder to come by? Have you considered a pregnancy pillow yet? I love the Dream Genie, found here:
amazon.com/dreamgenii-pregnancy-support-pillow
With the nausea subsiding, and the more extreme third trimester discomforts still a safe distance away, your second trimester is the perfect time to prep for your new arrival and simply enjoy the sweet spot of pregnancy. I hope you find these tips useful as you gear up for the new little bundle in your life!